Social Media is a POWERFUL TOOL.
BizBoost's Social Media Marketing Strategies Help Earn and Retain Customers.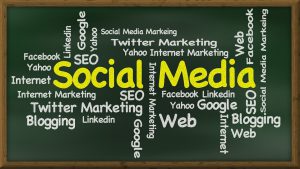 Don't have time to design and accomplish daily posting and customer outreach?  Our social media team is trained to help you manage your brand online.
Customers Are Waiting For You...
It's a fact...  customers–present & future–are already living in the world of social media…are you? Knowledgeable  placement helps you take control and earn new customers & you'll  retain the customers you already have. BizBoost's team offers support for your existing campaign to full expert management.
What do social media agencies do?
At BizBoost, we help companies & local businesses run social media campaigns and social media paid ads.  While posting content on social profiles is done to keep an active and engaging presence, social media campaigns are run with a specific purpose or objective to get you new leads through paid advertising.
What social media marketing involves
Social media marketing, or SMM, is a form of internet marketing that involves creating and sharing content on social media networks in order to achieve your marketing and branding goals.
Our social media services include:
Content strategy, development and distribution
Social media strategy, content production and community management
Paid and organic influencer relations
Native content strategy and execution
Ready to be social? We are too. Reach out today and learn more about how we use social media to help engage your audience and build your business.
Call Us Now or use the Contact Form On Your Right.
(409) 761-5581
Reviews
Working with Terry at BizBoost is pretty easy. He's responsive, listens and has a lot of good suggestions and ideas that I would never think of. Recently I engaged BizBoost to create a new site for me. After it was ready to publish, my old host could not get their act together and replace my old site with the new site. Terry got involved and got things straightened out. My old host just didn't want to let it go. My site is up and looking good although there a few image changes to be made, it's looking great. I recommend Terry and his BizBoost.us crew. Susan W. Flowers By Rickea
Susan R. Weiss
I've worked with BizBoost for almost 3 years and my website continually attracts new customers interested in Hunter Douglas Window Treatments, color consultations, and interior decorating projects. I can recommend BizBoost and Terry to any business owner looking to grow their company.
All About Interiors-TX
Right after I moved to Galveston and set up my practice, BizBoost built my site within a very strict budget. My customer base continues to grow yearly as most of my new clients find me on Google. I highly recommend BizBoost and Terry for website design and getting my site to rank on the 1st page of Google.
JEH Galveston Island CPA
"BizBoost was recommended by the SBDC in Texas City. I was a bit apprehensive when I called because I had a bad experience with another person. I worked with Terry & from the beginning, we clicked, and I've found he is responsive, creative, and has a knack for coming up with great marketing ideas. After 12 months of working with Terry, my site consistently gets seen for about 9 major keywords high up on all the major search engine and my phone is ringing with new customers."
JVD
"I'm a real estate inspector in the Galveston area. One of my neighbors recommended Terry to build me a company website. Terry has got my site to rank on the 1st page of Google and I am super busy. He has a way of visualizing just what I wanted and we made just one change and that was it. Very simple process. Gene M."
Gene M Galveston
"I moved to Galveston right after IKE hit and Terry found me on a job. We traded out some work and that was one of the best deals I've ever made. My contracting company has expanded 3X and I constantly get calls from people that see my website on Google. "
Herb P DFW Texas Builders
"
2 years ago we hired Terry to help us with our wrecker service in Dallas. We had a 1 page site that wasn't working for us and asked if we gave him complete control could he get us seen on the Internet. After a little over 7 months, we had to hire a 2nd dispatcher and 2 new drivers and bought a 3rd truck. Our phone rings all the time. Thanks Terry.
  "
Scotty G DDT Dallas, TX